TSnyder
This user hasn't shared any profile information
Posts by TSnyder
By News 4Digital Staff
Updated: 
Published: 
BUFFALO, N.Y. (WIVB) – Erie County celebrated William Shakespeare's birthday at the Market Arcade on Wednesday.
The great bard would have been 450 years old. Local actors from Shakespeare in Delaware Park honored his work by performing readings of his plays for 12 hours.
Lisa Ludwig, director, said, "Shakespeare is meant to be seen and heard and that's one of the things we at Shakespeare in Delaware Park park pride ourselves on after 39 years. So what better way today we started at 8 this morning until 8 tonight just reading from 37 plays and 154 sonnets."
Buffalo is home to the second largest 'Shakespeare in the Park' festival in the country. Shakespeare in Delaware Park opens its new season of free performances behind the Rose Garden on June 19th with Henry V.
Shakespeare coined several phrases that entered societal lexicon, including "with bated breath," which appeared in the Merchant of Venice; "wild goose chase," first seen in Romeo and Juliet; "vanish into thin air," a famous phrase in Othello; and "knock knock! who's there?" which was first used in MacBeth.
SHAKESPEARE IN DELAWARE PARK ANNOUNCES
450th Birthday Celebration for WILLIAM SHAKESPEARE
Wednesday April 23rd from 8am to 8pm
617 Main Street, Buffalo NY  14203
April 14, 2014, Buffalo, NY … Shakespeare in Delaware Park invites you to help celebrate William Shakespeare's 450th Birthday on Wednesday April 23rd.  Join us as we honor the man who is widely considered the greatest writer of all time with a day full of Shakespearean   readings by local actors and fans of the Bard. From 8am to 8pm on April 23 guests can stop by 617 Main Street (Market Arcade Building) and be treated to readings of Sonnets and Monologues made famous by the man himself while indulging in  birthday sweets. What a perfect way to celebrate the importance of William Shakespeare while helping SDP gear up for their 39thseason of Free Shakespeare.
 Shakespeare in Delaware Park reaches over 40,000 audience members each season and is proud to be celebrating 39 incredible years of high-quality professional theatre, which remains FREE for the public to enjoy. HENRY V runs June 19th – July 13th with COMEDY OF ERRORS on stage July 23rd –August 16th. Performances are held every evening (except Mondays) at 7:30 p.m. Shows take place on Shakespeare Hill in Delaware Park, next to Hoyt Lake behind the Rose Garden, off Lincoln Parkway near the Albright-Knox Art Gallery. Further information may be obtained at www.shakespeareindelawarepark.org or by calling (716) 856-4533.
Shakespeare in Delaware Park Announces Shakespearience Interviews
Interviews for SHAKESPEARIENCE, (Shakespeare in Delaware Park's high school apprenticeship program) are scheduled to be held on:
Saturday, April 26th from 10am to 1pm
716 Main Street Buffalo New York 14203
Session I : HENRY V  will run from:  June 17 to July 13
Session II : COMEDY OF ERRORS will run from:  July 22 to August 17
This season's productions are:
HENRY V directed by Saul Elkin- June 19– July 13
COMEDY OF ERRORS -directed by Steve Vaughan- July 24 – August 17
SHAKESPEARIENCE is open to area high school students; this program is designed to provide in-depth theatrical experience with theatre professionals.  Each session runs for five weeks, beginning the week prior to regularly scheduled performances. Applicants will be required to participate in an enrollment interview and prepare a short Shakespeare Monologue/ Sonnet on Saturday April 26th between 10am-1 pm.  In addition to attending theatre classes, students will gain hands-on experience in a professional production as part of SDP technical crew and will perform on stage during the season productions and in a special student performance during the season.
  Tuition is $400 per five-week session. Scholarships are available.
APPLICANTS MUST CALL FOR AN INTERVIEW APPOINTMENT AND PREPARE A SHORT SHAKESPEARE MONOLOGUE OR SONNET. NO INTERVIEWS WILL BE CONDUCTED ON A WALK IN BASIS.
For an appointment or further information call 856-4533.
Angelica Rodriguez, Culture Editor • March 19, 2014

There is a hill nestled in the northwest corner of Delaware Park, near Hoyt Lake, that attracts a crowd on nearly any given summer evening from June to August. This mass of people isn't loud; it hasn't gathered to protest or to show its pride – at least, not here. Instead, it has flocked to one central location – a wooden stage.
On what is dubbed Shakespeare Hill, people bring lawn chairs, blankets and picnic baskets full of food and wine. They each stake their claim on a patch of grass for the evening as the sun lowers in the sky. Once the main event begins, dusk will creep upon them, and as the sun sets, the lights of the outdoor theater will take over, almost imperceptible in the midst of the spell William Shakespeare's words create.
At this meeting place, nature and culture become one, along with what Steve Vaughan calls "the ambiance of a Buffalo summer" – kids, dogs, helicopters overhead and ambulances screaming down Elmwood Avenue or the Scajaquada Expressway. As the suspense, comedy and climax weave an intricate web in the mind of the audience, though, the rest of the noises fade into the background, leaving room for the unique experience of Shakespeare in Delaware Park (SDP).
"It's a beautiful thing, watching the sun go down and seeing the stage lights take over," said Vaughan, an actor, fight director and director of "The Comedy of Errors" for this year. "I love working there … it's part of the fabric of Buffalo tradition."
•••
Although the productions only last through the summer, the organization works year-round. At this point, according to managing director Lisa Ludwig, it has gotten production teams in place, held auditions, and cast the shows. The Fall Fundraiser, a staged reading to raise money for the organization, has come and gone, and everyone is gearing up for the 20th annual Fabulous Feast April 5, which is an auction and five-course Elizabethan meal complete with costumes, mead and grog, as well as entertainment.
The money raised from these and other events, as well as "passing the hat" (collecting donations during intermissions), goes toward the organization's production costs.
"Every year, we budget what we hope to make while passing the hat, based on previous years, the economic situation at the time, government funding, et cetera," Ludwig said. "We do a speech at intermission every night to explain the passing of the hat. If we're having a tough season due to weather… we adjust the speech to reflect that."
There are also memberships Shakespeare lovers can purchase, which start at $50 and include perks that increase with each price tier. These are an important part of the equation, according to Ludwig.
"
The budget is a huge factor, and that really affects the decision-making I have to do during the design phase."
— Ronald Schwartz, scenery and properties designer
"It's not that they have dropped off – we are just always looking for more people to be a part of the SDP family, and membership is the perfect way to be part of such an important cultural jewel in Western New York," she said.
Due to the arbitrary nature of fundraising, SDP has to operate on a somewhat tight budget. It has had a partnership with Shea's Performing Arts Center for the past four years to use rehearsal space with them until the week before opening, which is when rehearsals move outdoors. Scenery and properties designer Ronald Schwartz, also SUNY Buffalo State's technical designer for the theater department, said he considers recycling and reusing stock elements as well.
"The budget is a huge factor, and that really affects the decision-making I have to do during the design phase," he said, adding that he also has contacts and local resources to help him flesh out the rest of his designs before they get approved by the director and fellow designers.
The fact that the organization has done this for 39 years speaks volumes about the effort everyone has put in, not to mention the loyalty it has built up.
"We just do our job by putting up professional-quality productions and let our audience know that we are able to do this because of their support when we pass the hat," Ludwig said.
•••
This coming summer, in fact, is the one that marks SDP's 39th anniversary. Anthony Chase, the assistant dean of arts and humanities at Buffalo State and founding theater editor of Artvoice, has written about the organization for 24 years. As a result, he has watched it grow from a component of the University at Buffalo's dance and theater programs into one of the largest and most attended free outdoor Shakespeare events in the nation.
"It's a rather remarkable opportunity," Chase said. "By the time someone is out of high school, they could have seen 12 Shakespeare plays. It's very unusual, and a tremendous cultural asset which brings people together."
That is, if one takes advantage of the festival while they can – and there is plenty of incentive to do so. Shakespeare Hill lies within a five-minute walk from Rockwell Hall – practically in Buffalo State's front yard – which means students attending during summer can find entertainment easily. It is basically free – actors pass the hat, collecting donations from willing audience members, but there is no minimum donation amount.
"You can put in one dollar and feel totally comfortable with doing that," Chase said.
There is also a sort of dramatic utilitarianism to Shakespeare – it is highbrow entertainment (Queen Elizabeth herself watched his plays), and at the same time can amuse the masses, as the playwright needed to entertain the full spectrum of society.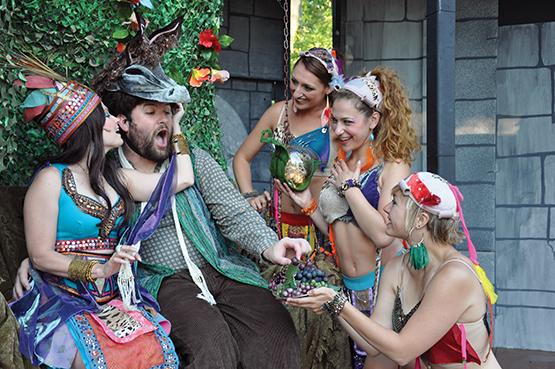 "A Midsummer Night's Dream," from 2012
Last, as Chase explained, Shakespeare and his contemporaries transformed the English language into poetry.
"(They) took a language that was not elegant — there was no great poetry written in English because it is a clumsy language," he said. "Shakespeare, Marlowe, Jonson – they took a clumsy language with most of its words borrowed from other languages and made something spectacular.
Shakespeare is always clever. The (imagery), the clever puns, the dirty jokes – he is always clever, always entertaining."
•••
SDP is preparing "Henry V" and "The Comedy of Errors" for the stage this coming season, as picked by founder and artistic director Saul Elkin. Usually one production follows traditional interpretation (in this case, "Henry V"); the other, often a comedy, goes in another direction entirely.
Ann Emo, an associate theater professor at Buffalo State and costume designer for SDP, won an Artie Award from Artvoice for her work on the costumes for "The Tempest" in 2009-2010.
"(It) was set on a 'tropical island' of sorts off of Brazil," she said. "We made the place up – it is not real… I did a lot of painting and natural objects in the costumes. That was fun and fantastical."
For his part, Chase remembers an interpretation of "A Midsummer Night's Dream" with a Hollywood fantasy theme.
"There were Busby Berkeley chorus girls," he recalled. "There was also a Fred and Ginger-type of exchange between Oberon and Titania. It was very inventive."
Vaughan's take on "The Comedy of Errors" will involve the popular scifi elements of steampunk and dieselpunk, the former of which is neo-Victorian, while the latter involves aesthetics from the era between the first two World Wars. The music will all be live, with musicians playing from the stage as actors, which he admitted might be a limitation depending on skill set – but he added that he and composer Randy Andropolis will work with whatever they have.
"The concept theme we're thinking of is around the Industrial Revolution," he said. "We're probably making up our own style here."
Vaughan, who is also a theater lecturer at Buffalo State, chose not to do the play in a traditional manner because "the tights and ruffles didn't add anything.
"This play is about people – about how, when people become emotional, they stop thinking," he said.
•••
Whether in ruffs and tights or barefoot, the actors and crew have given the audience thrills for close to four decades, with "one of the most beautiful parks in America," in Chase's words, as their backdrop.
"It's very social," he said. "It's in a beautiful park setting… everyone gets to commune with each other and with nature.
"There's an element to all theater experiences in that they bring people together. They laugh together, become frightened together, feel suspense together. It's a communal, life-affirming experience."
Email: rodriguez.record@live.com
Twitter: @A_Rodriguez39
FOR IMMEDIATE RELEASE
FOR MORE INFORMATION CONTACT                       Lisa Ludwig 

716-856-4533
Shakespeare in Delaware Park, Inc. Announces 2014 Season Auditions
Auditions for Shakespeare in Delaware Park's 39th season will be held on February 15, 16, 17
 Saturday February 15th – 9am to 2pm      OPEN CALL
Sunday February 16th –  9am to 1pm       CALL BACKS
Monday February 17th  – 5pm to 9pm       CALL BACKS
Auditions will be held at The Market Arcade Building –617 Main Street Buffalo 14203 (this is NOT the Market Arcade "Movie" Complex)
OPEN CALL  AUDITIONS ARE BY APPOINTMENT ONLY. Everyone interested in being considered for the 2014 season must make an audition appointment.  To arrange an appointment, please call (716) 856-4533, on or after February 3rd (NO audition appointments will be accepted before February 3rd).
This year's productions include:
HENRY V –June 19th  through July 13th –Directed by Saul Elkin
COMEDY OF ERRORS—July 24th through August 17th —Directed by Steve Vaughan
Actors should prepare one memorized, Shakespearean monologue, not to exceed 2 minutes. Actors who can play musical instruments are needed for Comedy of Errors. If you have played a "principal role" for Shakespeare in Delaware Park in the past you do not need to prepare a monologue, you may call to see if you are needed for a call back audition appointment.  All Actors are requested to bring a resume/career bio and a head shot to the audition. Please note the roles of Chorus, Fluellen, Pistol and The Abbess have been cast.  ALL other roles are open at this time.
TSnyder's RSS Feed